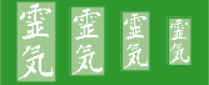 We are dedicated to being of service to all. May our actions be of benefit to all sentient beings
Welcome to the Reiki Braintree home page. We are dedicated to providing all of our clients and students with personalized treatment and/or instruction geared towards nurturing balance physically, mentally, emotionally and spiritually.
We treat clients and train students in an atmosphere of understanding and acceptance and we tailor our services to fit each individualís ability and experience.
We provide instruction and apprenticeships at all levels up to and including Master/Teacher. In addition to traditional Tibetan Usui lineage Reiki instruction and attunements we incorporate other modalities, (including Cranio-sacral techniques, Maka Ho & Chi Gong energy exercises and accessing the Akashic Record).
We are dedicated to being of service to all beings. We offer a sliding scale and will generally make arrangements with anyone who sincerely desires to assist in the healing of the planet regardless of financial ability.
Feel free to contact us for more information by clicking below now:

Reiki Treatments given by a Master level practitioner are now available Saturdays
Half-session / $20.00 or Full session / $30.00
Appointments are available Saturday from 11-3, availability varies, call for details
in Braintree, MA at (781) 843-8224 (to set appointments only)
For general questions inquire via e-mail or call (781)848-4134